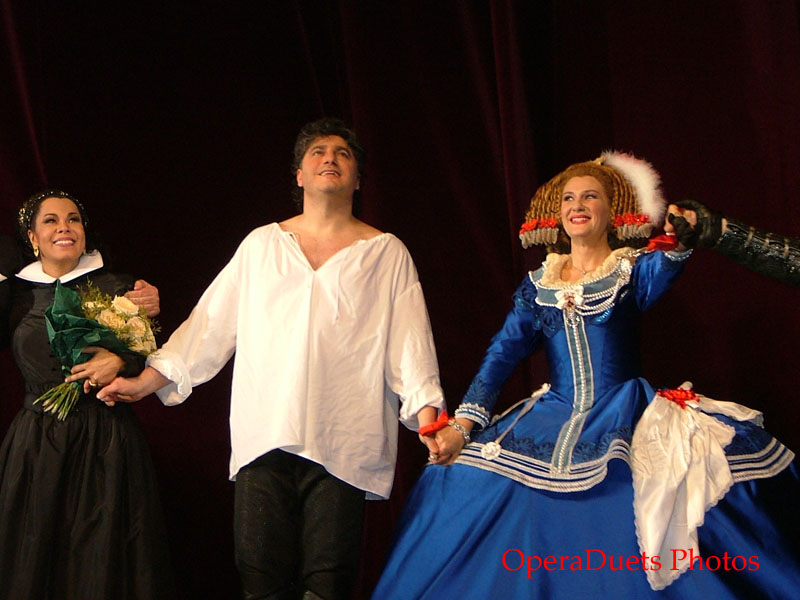 I saw LE CID in Opernhaus Zurich this year (
2008-02-03
)
Only the tenor's aria: O souverain, O juge, O pere; and the soprano's, Chimene's aria: Pleurez mes yeux; is reallyy known.
On EL CID (also Wikipedia)
Rodrigo
(or
Ruy
)
Díaz de Vivar
(c. 1040,
Vivar
, near
Burgos
– July 10, 1099,
Valencia
), known as
El Cid Campeador
, was a
Castilian
nobleman, a gifted military leader and diplomat who, after being exiled, conquered and governed the city of
Valencia
. Rodrigo Díaz II was educated in the royal court of
Castile
and became the
alférez
, or chief general, of
Alfonso VI
, and his most valuable asset in the fight against the
Moors
.
The nickname "El Cid" comes from the Spanish article "El", which means "The" and the dialectal Arab word سيد "sïdi" or
sayyid
, which means "Lord". So "El Cid" could be translated as "The Lord". The title "Campeador" is a
vulgar Latin
word that could be translated as "master of military arts". He is considered the national
hero
of Spain.
--- Maybe I will analyze LE CID myself, really, one time later and not just rip of from Wikipedia.---
Or maybe I have some readers that will do me the honor of commenting their analysis...
For more reviews from my travels, see
www.operaduetstravel.com