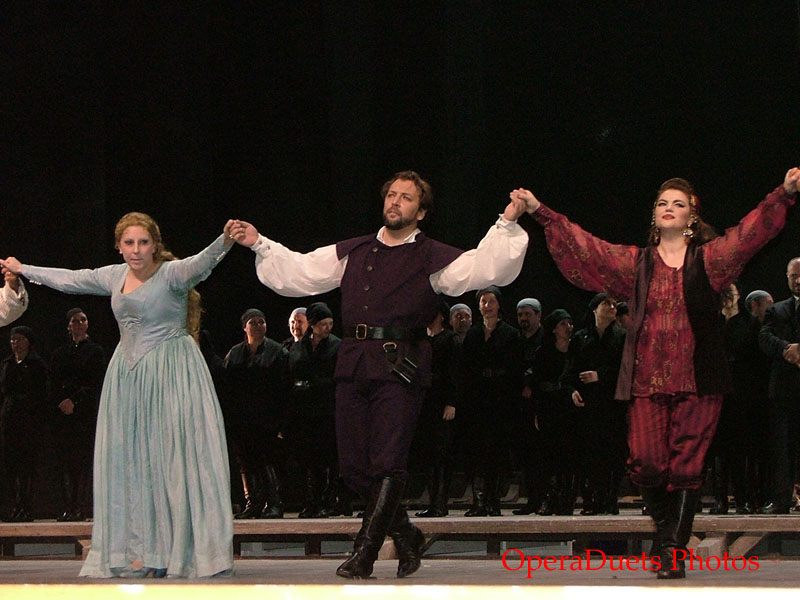 Giuseppe Cipali as Corrado and Doina Dimitriu as Gulnara

And I even have the
DVD
, with other singers, Adriana Damato is Gulnara:
---
Zvetan Michailov (tenor), Renato Bruson (baritone), Michela Sburlati (soprano) & Adriana Damato (soprano)
Orchestra e Coro del Teatro Regio di Parma, Renato Palumbo (conductor) & Lamberto Puggelli (director)

Il Corsaro is still one of Verdi's less known and performed operas. Chronologically speaking, it belongs to the famous "years in the galley", even though it dates from a period (the autumn of 1848) when the composer's name, in Italy, could already be considered established. Although this is considered one of Verdi's minor works, there are many exciting and poignant passages in it, and the tight dramatic action makes for music that has a pressing and incisive rhythm. The renowned baritone Renato Bruson and conductor Renato Palumbo stand out in the cast. The video recording makes the most of Lamberto Puggelli's beautiful sets. Subtitles in 7 languages (Italian, English, German, French, Spanish, Chinese and Japanese).

Product details
Format: Classical, Closed-captioned, Colour, Dolby, DVD-Video, Import, Subtitled, PAL
Language Italian
Subtitles: Chinese, English, French, German, Japanese, Spanish
Region: All Regions
Aspect Ratio: 1.78:1
Number of discs: 1
Classification: Unrated (US MPAA rating. See details.)
Studio: Dynamic
DVD Release Date: 28 Jun 2005
Run Time: 107 minutes
Average Customer Review: No customer reviews yet. Be the first.
ASIN: B0009SCVJG
For more reviews from my travels, see www.operaduetstravel.com