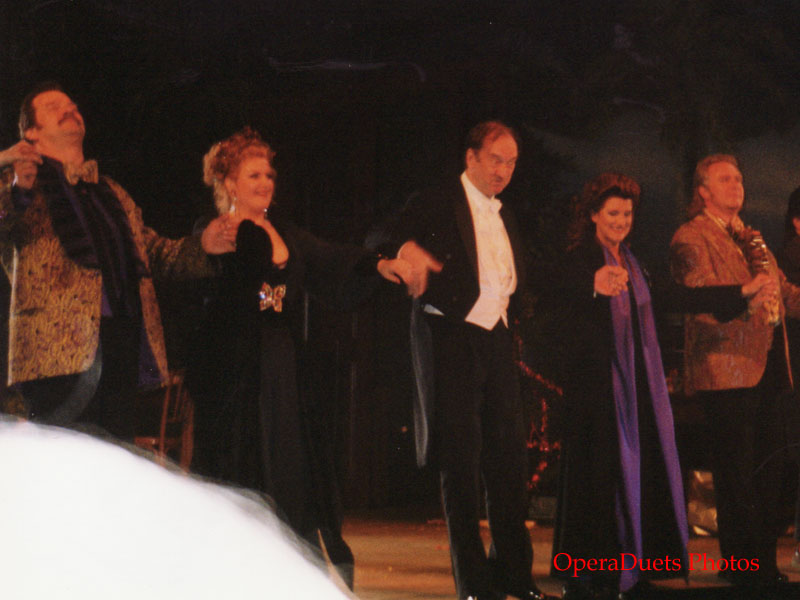 5

x Die Fledermaus
1985-07-24
,
1989-01-07
,
1999-05-12
,
1999-05-14
,
2007-09-23
Wiener Operette, Johann Strauss II, Die Fledermaus, New Years Eve, Gala, Guests
New Years Eve Gala of Die Fledermaus (called The Bat, in English) with Guest stars as simultanious guests of Prince Orlofskys ball as it guests in the opera house. Wow!!
That can be fun. But what can make it boring. This is an operetta not an opera. It is meant to be like opening up a bubbly Champagne. It should sparkle all the way. Operetta is like superlight fun, but it sparkles best when there is some serious thruth down. Real people with problems but with a sparkling, witty dialogue and the sparkly operetta sound. With the right touch from the director and singers than can do the dialogue just right act 1 and 2 will go like a dream. Actually, even act 3 could be a ball. Unfortunately act 3 even if there is some great music and singing usually makes you want to go home.
Then there is the language. German in German speaking countries, yes, naturally. But elsewhere it is the question: Making it all in German (dialogue, singing), or singing in German, everything else in the native tongue, or all translated.
No wonder I loved it in 1999 in Theater an der Wien with Agnes Baltsa as Orlofsky and Isabel Rey as Adele, naturally it was all in German, and it had a very bubbly, sparkly quality.
But I do hate Frosch and his comedic monologue, don't you, too?
For reviews from my travels, see www.operaduetstravel.com