12.12.12 but unfortunately at 12.12 I was busy at work with a pre-Christmas party so this blog post could not have been written at that time.
In May 1998 I saw LE PROPHETE by Giacomo Meyerbeer with Plácido Domingo as Jean and Agnes Baltsa as Fidès.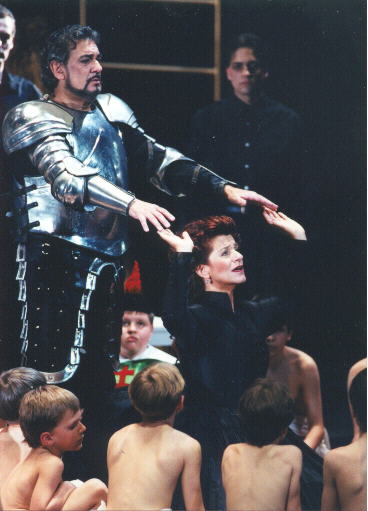 It was a Hans Neuenfels production. (Inszenierung - Hans Neuenfels, Bühnenbild und Kostüme - Reinhard von der Thannen, Choreinstudierung - Johannes Meister, Einstudierung der Tänze - Renato Zanella). I loved the opera and found the production not too disturbing. But it was certainly a modern production like those not loved by Facebooks
Against Modern Opera Productions
(AMOP). If
La Cieca from Parterre Box
could find something she did not hate about Meyerbeer and his operas then maybe she would have loved Wiener Staatsoper's LE PROPHETE.
But this shows the problem. What makes an opera great? Can we get an agreement here. (I doubt it). What makes an opera production great? It seem in vain to find an agreement here. Even what makes an opera production stinks, there can be NO agreement especially between AMOP and La Cieca. In reality this is bigger than 2 persons even such prominent and knowledgeable persons.
The dispute is about Regietheatre. Is it good or bad? Perhaps we can agree that we should be able to enjoy opera and not be just annoyed etc. by the directors maddening choices. Trouble is that we are all different.
The only thing I can just emphatically state is that LE PROPHETE is truly a wonderful opera by Giacomo Meyerbeer. So if you want one opera by Meyerbeer. This should be it.
For reviews from my travels, see www.operaduetstravel.com