Well, I do not live in a city with an opera house so I have to travel. So the expenses is the opera ticket, travel ticket and usually hotel, too.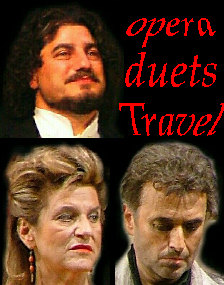 I started as one usually does, by traveling in my own country.
NORWAY
(1981-). Bergen, Drammen, Kongsvinger, Nordfjordeid, Oslo, Sogndal, Stavanger.
Then in the neighbor country,
SWEDEN
(1982-). Gothenburg, Stockholm and Dalhalla.
AUSTRIA
(1985-). Bad Ischl, Innsbruck, Vienna
UK
(1989-). Devon, Edinburg, London
SWITZERLAND
(1994-). Zurich
DENMARK
(1995-) Aalborg, Århus, Copenhagen
GERMANY
(1996-) Berlin, Dortmund, Dusseldorf, Friedrichshafen, Hamburg, Ingolstadt, Karlsruhe, Munich, Regensburg
SPAIN
(2000-) Barcelona, Bilbao, Madrid
FINLAND
(2002-) Helsinki
ITALY
(2003-) Firenze, Genova, Parma, Torino, Verona
HUNGARY
(2006-) Budapest, Misckolc
For reviews from my travels, see www.operaduetstravel.com