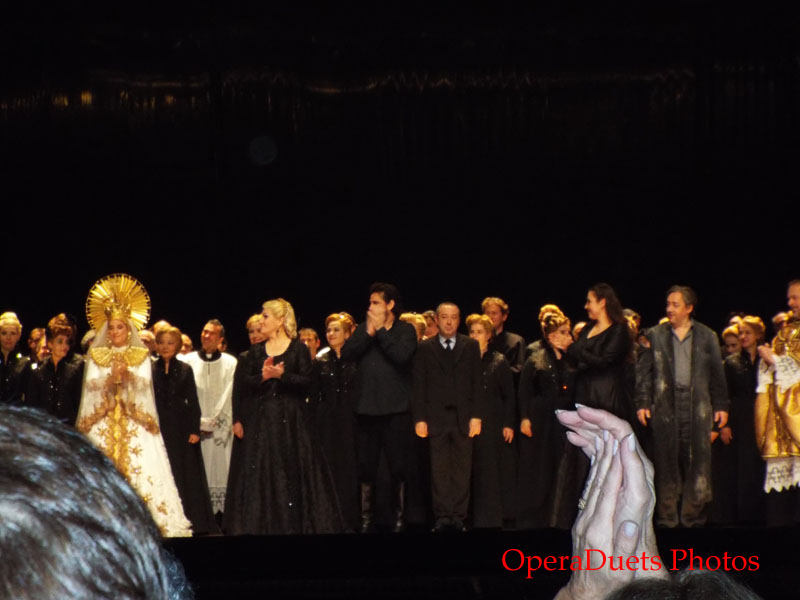 Amneris
= Luciana D'intino
Radamès
= Marcelo Alvarez
Ramfis
=
Roberto Scandiuzzi
Amonasro
=
Sergey Murzaev
A messenger
= Oleksiy Palchykov
High Priestess
=
Elodie Hache
Philippe Jordan
, conductor
Stage director - Olivier Py
Sets and costumes - Pierre-André Weitz
Lighting - Bertrand Killy
Chorus master - Patrick Marie Aubert
In the night bus to Oslo Airport Gardermoen and everything is going well. Just 40 minutes from the airport and the road is blocked because of an accident. Luckily 1,5 hours later it opens and so I am in time for my flight to Paris.
For the first time at Charles de Gaulle airport. My hotel is close to Opera Bastille and to Gare de Lyon so I took Les Cars de Air France ligne 4 to Gare de Lyon. The dreaded Charles de Gaulle airport was not so daunting, I liked Terminal 1. It took the bus almost 30 minutes just to go throught the airport stops and then 30 minutes to Gare de Lyon. The traffic machine of the CDG airport was a maze... I was worried if we weren't to stop at Gare de Lyon but going directly to Gare Montparnasse. But at last, Gare de Lyon. I recognised it all and could quickly walk in the right direction. Soon I was at my hotel, Hotel Luxor Bastille. And yes, this was one of those times when the room would not be ready until 1330 as the website said. So I went to my restaurant in Paris, Les Ateliers Americain and there I enjoyed a Pizza Vegetarienne and Cola light.
50 Euro for a 2 star hotel. Hotel Luxor Bastille was OK for that prize, I guess. But no way would I use that elevator even as my room was on the 4th floor. It was just enough room for one person and perhaps some luggage but then it would crowded. So up I went. Slept a few hours. Went to my restaurant and had a wonderful calzone and Cola light. Then to the opera.
So Opera Bastille and Marcelo Alvarez as Radames in Verdi's AIDA. The sets was in gold. The costumes was black or golden or camouflage. We all know that Verdi was an Italian patriot and that his name was used to say discreetly that they wanted Vittorio Emanuele Re D'Italia. Etiopia became Italy, and Egypt became Austria and that did not make sense here. The director improvements of Aida was distractions and in bad taste.
The singing was glorious, the conductor magnificent. I was happy in the beginning, no blackface. Alas, that was not to last...
The opera started with man waiving a big, Italian flag behind the big golden building. Then soldiers dressed in camouflage caught him and beat him severely. Aida in black dress and blonde whig tried to help him. Amneris was also in a black dress with sparkly spots and blonde whig. Blond and white was name of Amneris followers. Aida rebelled and soon the whig was off. Radames was dressed in black as a general with gold streaks. Ramfis and his men was dressed as Catholic priests and monks. Ramfis was dressed in gold as Archbishop or Pope.
Soldiers in camouflage, some times off with shirt, flexing muscles, eager always to use machines against anyone. OK. We get it, Austria was bad to Italians. Ballet meant a chance for bad taste to unfold. The blackest blackface to one of the dancers and then a red "egypt hat" with black, curly hair AND dancing in a kind of monkeytype dance AND beating of two camouflage soldiers. I had to look over the stage towards Amneris and friends and just avoid the stage floor. And what did it do for the opera NOTHING except BAD TASTE in whole body. Then there was the Holocaust looking like scene with lots of Dead, White Bodies and Radames strolling there with his water bottle. Also something in Bad Taste and Not Necessary.
This production was distracting when it should not be and it did not speak to me. All that wonderful musical talent and then we got a Golden, but Empty AIDA. Oksana Dyka was wonderful!!! Marcelo Alvarez wonderful!!!
When I left Opera Bastille I was SOOO happy I did not have to see it again. My number 10 Aida and sadly not one of the good ones. The Aida in Verona this summer does not seem so bad now.
It gave me a headache. Sunday off to Paris Charles de Gaulle and then bus home. The whole day just coming home again.