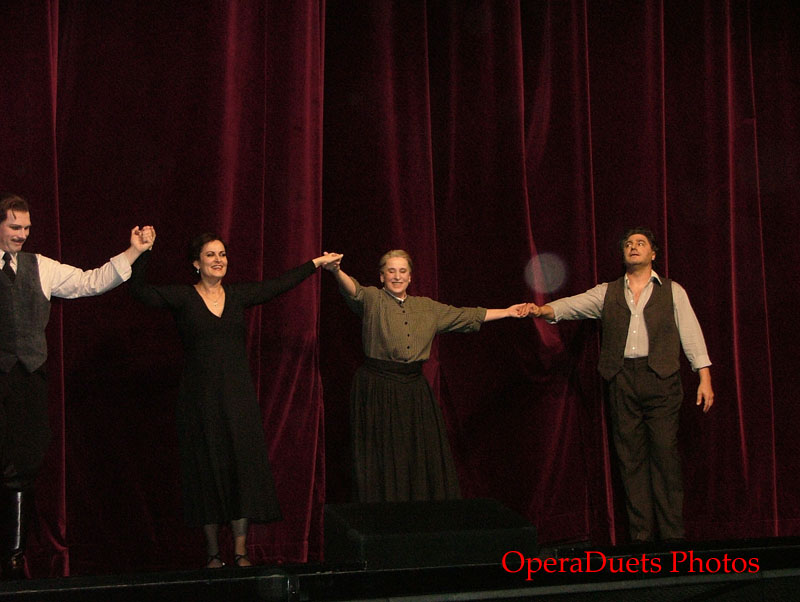 What have I learnt from travelling this year: Always look at where your hotel is, and whether the reception is open, HRS.de is very friendly and helpful when you want to change hotel (need to have their phone number, mobile phone is a must), Never take a taxi from the airport to the hotel (it is too expensive).
56 Swiss Francs to be exact. Taxi from Flughafen Zurich to Hotel Leoneck. In the evening. Yep. Walked a lot in order to "save" money.
So tuesday 7th: late flight with Swiss from Oslo to Zurich. Wednesday: first finding the way from hotel to opernhaus to collect my ticket, then going to Hauptbahnhof (HBF, main train station) and so back to my hotel. Breakfast at McDonald's. Lunch/Dinner at Chinese Take Away in HBF. Stomach ache, why? I didn't eat too much.. Any way, I had to take some pain killers (only one).
Met my JCx friends in the opera house. Many had seen several performances of this Cav/Pag with José Cura.
I had seen Cavalleria Rusticana and Pagliacci 7 times before: Vienna 2000/2008, Hamburg 2003, Berlin 2005, Miskolc 2006, Verona 2006, Genoa 2007. What can I then say about this production?
It was Real Verismo where every choir member had a role to play, nut as simply a chorus, but as real persons with their own individual lives. There were no masses, only individuals. Wonderful to see such attention to detail in an opera production. Paoletta Marrocu was Santuzza, I wish I could really describe how she acted and sang but nothing, except that she was Santuzza, really. Alfio and Lola, Cheyne Davidson and Katharina Peetz, was the good-looking and wealthy couple. Everybody in the village except Alfio and mamma Lucia knew about Turriddu and Lola. But wealth has it privilege, Lola was still excepted. Santuzza, not. Mamma Lucia, Cornelia Kallisch, was a much deeper role, more sympathetic especially in the end towards Santuzza. José Cura was Turriddu. He was great, even deeper understanding to the role. No wonder he was killed by Alfio, having been drinking a lot, and Alfio had not been drinking alcohol.
Pagliacci started with a disappointment. The Prologue with Carlo Guelfi (Tonio) was boring, and he was already dressed up as a Commediante player. It really made me think skip the prologue, let's have the opera allready. Finally it started. Again it was the attention to detail and that every person on stage had personality and a life that impressed me. Martin Zysset as Beppe was nothing special here, why? Was it that it was the last performance of Cav/Pag in the season. As he did not excell here, Beppe (Martin Zysset) was the clue that fitted all together. Gabriel Bermudez as Silvio was a real good-looking, muscular man. No wonder Nedda fell for him. Especially since this Canio was more of drunkard than anything else. But when José Cura plays the drunkard one does feel sympathy for him. No sympathy for Nedda, Fiorenza Cedolins, the adulteress. Shameless... And then how would one feel for Nedda, the character does not have a forgiving feature. Only in Genoa, where Nedda/Canio had a daughter this I feel for Nedda, Svetla Vassileva. And then Carlo Guelfi in the opera, was better than in the prologue...
After the opera it was Signierstunde José Cura. We could buy his photography book and a 3 CD-set (Aurora, Dvorak, Rachmaniov). And many photos was taken. For me, only 2/3 photos was good of JC, the room was full of people.
Midnight at my hotel. Slept better this night. Had breakfast as Burger King in Zurich HBF. At the airport at 1200, and my flight was 1650. 1905 in Oslo and 2130 at my parent's.
That's it from travel 7-9.July 2009

For more reviews from my travels, see www.operaduetstravel.com