As the bus came nearer to Oslo I was suddenly unsure, would I come in time for my early flight to Vienna. The snow was making it difficult and the bus drove slowly. We arrived the bus station a bit before 0530. I almost took the airport bus, but since it would take over 40 minutes and would not go until 0540 it would have been scary close. The airport train was leaving 545 and reached Gardermoen Airport at 0607. I took the lift to the departure. I was so late that the machine refused to give me the boarding pass and said that I have to go to the counter. I found help. And then it was security line. Lucky it was very few people in the line. I got through and soon I was at my gate. The airplane had not had its fuel yet and the snow-mawing was ongoing. Few minutes before 7 we were allowed into the plane. Then it was the de-icing of the plane.
But soon I was off to Vienna. 1020 we arrived in Vienna. Those who was going to Salzburg lost their flight. But I had arrived in Wien, du Stadt meiner Träume. I took the CAT to Wien Mitte. And then U4 to Karlplatz. Then I walked the Ring to Parkring and Radisson Blu Palais Hotel. A nice and posh hotel where people was supposed to be checked-out by 1200 but people waited until 12 and so on to get out. I was finally getting my key when they found out that the people in my room must have decided to stay longer. I got an upgrade for the same price. The room was good enough but I could hardly see any evidence in upgrade or was it that the minibar was free.
No headache this time but serious pain of the monthly sort. My bed was good and I relaxed/slept/listened to music until 1630. Then I walked to Staatsoper. I found the pizza restaurant Firenze or another Italian city name and I had Pizza Vegetaria and Coke light. Now I felt completely refreshed to go to the opera.
2010-02-20 Cavalleria Rusticana (P. Mascagni), Wiener Staatsoper
Santuzza = Dolora Zajick
Turiddu = José Cura
Alfio = Alberto Mastromarino
Mamma Lucia = Auro Twarowska
Lola = Roxana Constanisnescu
Asher Fisch, conductor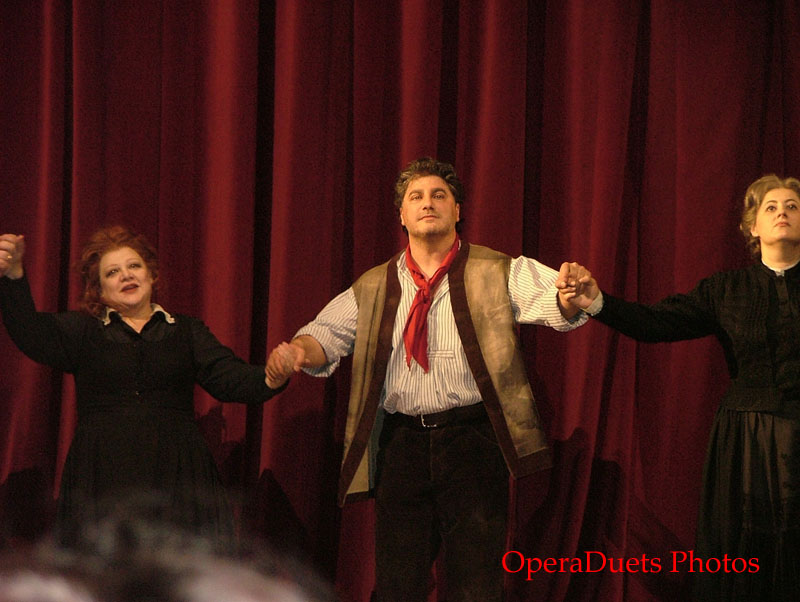 I had forgotten how painful I find this Cavalleria Rusticana of Jean-Pierre Ponelle, how I suffer for Santuzza making it hard to just enjoy. Dolora Zajick was Santuzza and she does a wonderful job but I wanted Agnes Baltsa instead. Agnes Baltsa really owns this role. José Cura was fantatic as Turriddu, I only breathed when he was onstage. The Siciliana, the duet with Santuzza, the Brindisi and Mamma, quel vino ... was just wonderful musical moments. Alberto Mastromarino was a solid Alfio, Roxana Constanisnescu the same as Lola. Aura Twarowska was great as Mamma Lucia. Both Cura and Twarowska sang their roles for the first time at Vienna State Opera.
2010-02-20 Pagliacci (R. Leoncavallo), Wiener Staatsoper
Canio (Pagliaccio) = José Cura
Nedda (Colombina) = Nicoleta Ardelean
Tonio (Taddeo) = Lado Ataneli
Beppe (Arlecchino) = Herwig Pecoraro
Silvio = Tae Joong Yang
Erster Bauer = Jens Musger
Zweiter Bauer = Wolfram Igor Derntl
Asher Fisch, conductor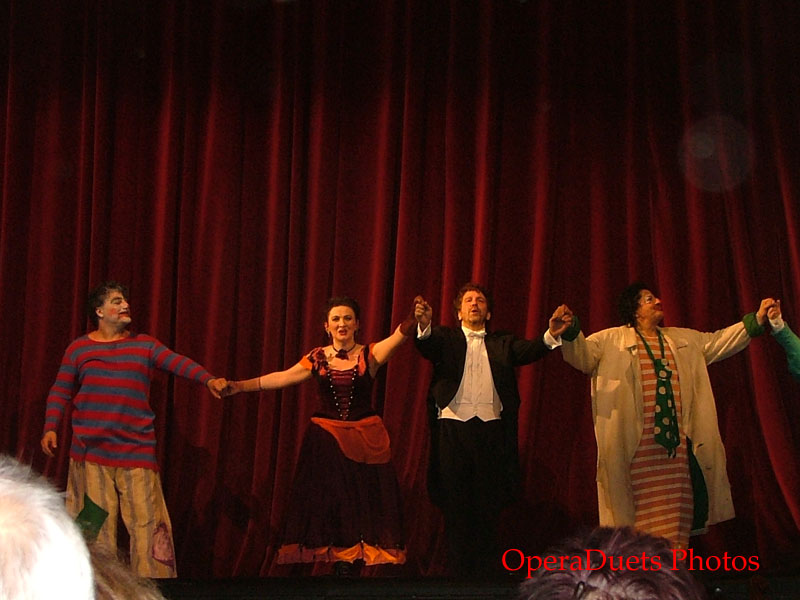 Pagliacci is just much more to enjoy even as this too is a tragedy. José Cura plays Canio as a drunkard from beginning to end with serious violence problems. I did not really get Lado Ataneli's Tonio. I found him enjoyable to see and hear but I did not understand Tonio at all. Canio was easy to get into. Nicoleta Ardelean was giving her first time in Staatsoper as Nedda. She was also good and improved during the performance. The other roles was also solidly sung and acted. This time Tonio gets the Prologue.
José Cura in der Materialschlacht
- DiePresse.com
Die Presse seemed not to like José Cura at all. But loved Lado Ataneli as Tonio. A better Tonio than Jago. I saw Lado Ataneli as Jago in Hamburg 6 years and I think it was a better role for him. But of course that was in 2004.
After the operas and much applause it was time to wait at the backstage door. Waiting and waiting untill finally I got a chance to take some photos.
I gave up when I had 3 photos of Cura and one of Ataneli. It was 2330. And then I walked to my hotel. To sleep until 0630. So 7 am I checked out of the hotel. My plane was leaving 1025. I had good enough time. CAT Train 0808
For more reviews from my travels, see www.operaduetstravel.com