I slept till 1100. The night was less tranquil than that. Breakfast at McDonald's near Main Station (Cheese burger ...). Head-ache yesterday and today too. Still living on a wonderful opera evening of Elektra. And I even got to take a photo of Agnes Baltsa. A great day, yesterday.
January 30, 2010
Looking forward to NABUCCO with Juan Pons, Maria Guleghina and Boiko Zvetanov. I saw Agnes Baltsa and her sister near the opera house. Only in Zurich, you know. Poulet süss-sauer at the Main Station today. Today I have decided not to walk so much so I bought a 24 hrs card. It is Saturday and I am going into shops and looking at restaurants to decide a real dinner maybe. But I went to McDonald's and it was OK. Of course it cannot be called dinner.
Tram to and from the opera house. NABUCCO by Giuseppe Verdi. Maria Guleghina was a fantastic Abigaille. Juan Pons was suddenly much thinner but still made a great Nabucco. Boiko Zvetanov was looking like a small Dennis O'Neill. But he was great as Ismaele. One could easily forget his heavy and small look and understand why two women were in love with him. Stefania Kaluza was singing Fenena, she was great in the ensembles, duets, etc. but strangely did not make such a great impression in her aria. Chorus was great. Nello Santi conducted.
Obviously Jonathan Miller had been thinking too much about history. Would really the women and men be separated when they were about to be executed.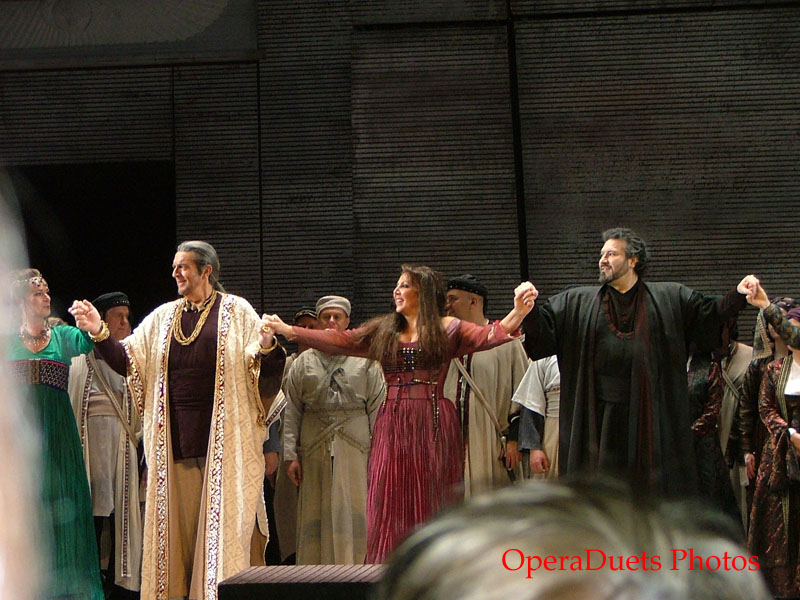 I had planned to wait at the stage door for the singers but today I had too much of a head-ache so I left to my hotel. Via McDonalds (2300).
January 31, 2010
Slept better tonight. Up at 1000. Checked out. Took ICN St Gallen 1109 from Main Station to the Airport. 1120-1215 McChicken. 1245 boarding card. BUT flight is 1650.
What to do in Flughafen Zurich, shopping, going to restaurants, sitting down to write something. Relax.

What to remember: when to drink up the last bit, wait until security. In Zurich it is first a boarding pass check, no need to fast drink now wait until security. No fear, after security you will still have shops for that bottle of water, coke or ... . Zurich is cool.
So I am at the Gate and everything seems to be OK. The plane is on time and we get into the plane. AND then we have to wait a full hour in a very hot plane with bad air. ONE HOUR. Of course we land in Oslo 1 hr late. For me what does it mean, I can relax. I will get 2 hrs to wait for my bus home. It is really cold when I get home at 05 something. It is really cold inside too. But it is February 1. And... yes, New month, work day and I am home again.
For more reviews from my travels, see www.operaduetstravel.com