January 28-29, 2010
The bus left home 2230. I got a good seat. And slept reasonably well. Arrived Oslo Bus Terminal 0520. Took the airport bus 0530. it takes 45 minutes to the airport Oslo Gardermoen. At 7 I ate ate a baguette with cheese and ham. The Swiss (airline) counter opened. And I soon got my boarding card and went through security. I only had hand luggage with me. 0750 I texted my mother to say I was in Airport and were near the gate.
The plane arrived arrived late in Zurich Airport. 1305 I was at the train station part of the airport. Took a IR train to Zurich main station. Later I founf that I could taken the tram 10 to my hotel. Went from main station to my hotel (Hotel Leoneck). I had stayed there before. 1405 was I "home". I am lucky that it is not too cold in Zurich but it is really WINTER her. Snow in Zurich...
After the hotel my first stop is Opernhaus Zurich to collect my tickets. I am walking the whole way and going back through the Station street (Bahnhofstrasse) to the main station. When after a long search I find the china restaurant I eat there. Poulet süss-sauer. Then back to my hotel to rest. I have a head-ache. Two hours rest 1630-1830. And then put all my cloths on to go to the opera house. My head-ache is not gone. Must take something against it.
I went to the opera house to see ELEKTRA with Agnes Baltsa as Klytämnestra. This one act opera with 1hr 45 mins music is NOT my favorite opera. But this time it is Daniele Gatti who conducts the orchestra of Opernhaus Zurich and Richard Strauss' music streams out sounding just wonderful. For the first time all the music of Elektra sound like magic. First opera I ever wanted to hear without the singing. This does not mean that the chorus or the soloists were not good.
The production was not too bad but not something that I felt I was missing when my head-ache forced me to close my eyes. Often in closing my eyes I enjoyed the opera more. Eva Johansson was a good but not really in voice before Orest. After Orest came the real Elektra appeared. Emily Magee was a wonderful Chrysathemis, singing and acting was fabulous. But both lacked in German diction. Agnes Baltsa was in great voice and acting Klytämnestra with all her body. To my ears Baltsa's German was close to perfect.
The production put too much on the shocking things (sex....) going on in the house and too little on what happens outside with Elektra. Elektra is really outside the house and closed into her own head. Elektra was yellow (meaning?). Chrysathemis in white (pure virgin). Klytämnestra in red dress (blood, murder) with black cape? (death).
After the opera I congratulated Agnes Baltsa and conductor Daniele Gatti on this wonderful performance of ELEKTRA.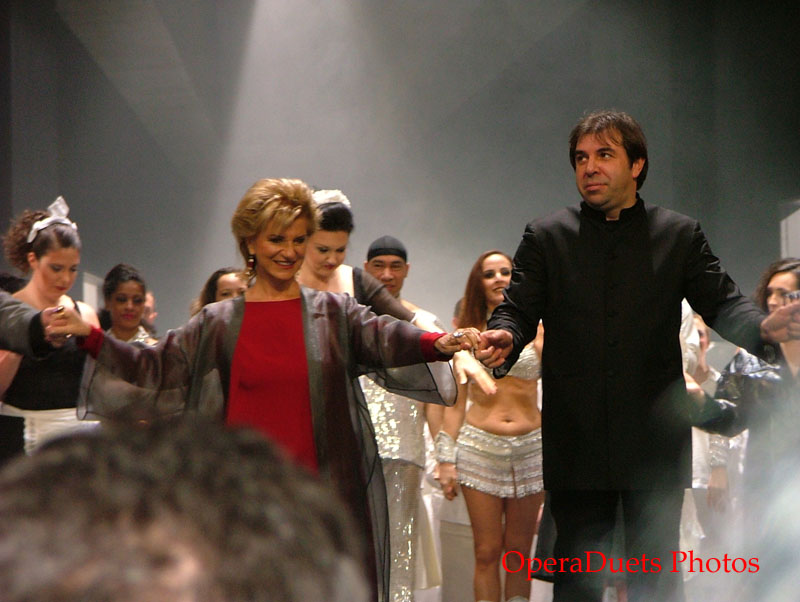 BRAVA, Agnes Baltsa!!!
And Agnes Baltsa told she will sing in Cavalleria Rusticana next year in Zurich.
For more reviews from my travels, see www.operaduetstravel.com