I arrived in Vienna airport 1310. I took the City Airport Train CAT 1335. 1430 in my hotel room. And Jenufa, the opera, starts at 1930. Not only that but I was tired from "sleeping" in the night bus to Oslo. The bus arrived arrived in Oslo 0540 + my flight was 1045 = really tired when I arrived at last in Vienna.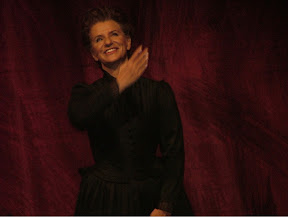 Then it was opera time suddenly and I had not had a decent dinner, only McDonalds, BurgerKing and a tomato soup at Marodo. The conductor Graeme Jenkins looked older, the tenors Marian Talaba and Jorma Silvasti looked fatter, but Agnes Baltsa and Angela Denoke was in great shape and lifted the opera up to the highest level. A debut as Old Burya, Marta Benackova, was greatly applauded in the Staatsoper, but I found her lacking in vocal authority. I saw Angela Denoke as Jenufa in 2002 and I found her good then but she was glorious now. Agnes Baltsa did was must be one of her best Kostelnicka's ever. She was in a fantastic vocal shape and her acting was as sharp as ever. Marian Talaba was Stewa and he did a good figure but I missed the oppulence of a Torsten Kerl in the role. Although Jorma Silvasti did another wonderful Laca performance I think that maybe Talaba should have been Laca Klemen and Silvasti Stewa Burya.
Jenufa is in 3 acts of approx 45 minutes each. Even as the opera ends in a higher and a positive note both act 1 and 2 ends in a tragic shock. Act 3 in the conclusion of a tragedy that was unavoidable but still the positive character of Jenufa gives the opera an end as if we have seen the paradise and the love of God that awaits us there. It is strange that I have seen this opera more times than one and still I was only just now so strongly aware of the religious content. Strange because the opera never hids its Catholic content.
After the opera we were a lot of people waiting at the stage door. Finally even Agnes Baltsa came out.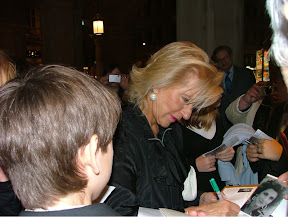 And then I could go to my hotel content and happy. The opera was even on the big screen for people to see for free. I was happy for my expensive ticket a to be inside and not freeze listening to traffic and opera at the same time. I hope this Jenufa was on Tv and would come out as DVD. HOPE.
BRAVO tutti