2011-06-19 Cavalleria Rusticana (Mascagni), Opernhaus Zurich
Santuzza = Agnes Baltsa
Turiddu = José Cura
Alfio = Cheyne Davidson
Mamma Lucia = Cornelia Kallisch
Lola = Katharina Peetz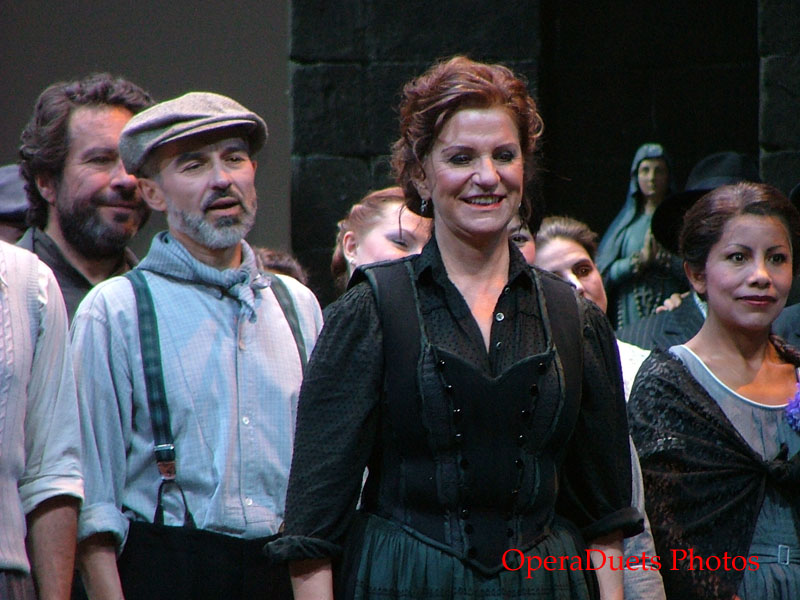 In 2009 it was Paoletta Marrocu who sang Santuzza. This production paints a detailed portrait of Santuzza and her surroundings. The acting was in fine detail. But now 2 years later the details are more fuzzy. Still Agnes Baltsa made a wonderful Santuzza. As the singer is now over 60 it is not suprising that she has lost something in her voice, it is no longer so agile. Much praise has been heeped on the young conductor Daniele Callegari but I found him lacking in looking after for the chorus and the soloists. That did not help Agnes Baltsa who still managed to act and sing a Santuzza that one cared for. Jose Cura as Turriddu was wonderfully played and sung. He came out as almost sympathetic this time. Lola was sung and acted by young Katharina Peetz, a delight as Lola just as her character is a really vamp of a woman. Cornelia Kallisch as Mamma Lucia was also great and a sympathetic character. Cheyne Davidson was like always a solid Alfio.
2011-06-19 Pagliacci (Leoncavallo), Opernhaus Zurich
Canio (Pagliaccio) = José Cura
Nedda (Colombina) = Myrtò Papatanasiu
Tonio (Taddeo) = Carlo Guelfi
Beppe (Arlecchino) = Boiko Zvetanov
Silvio = Gabriel Bermudez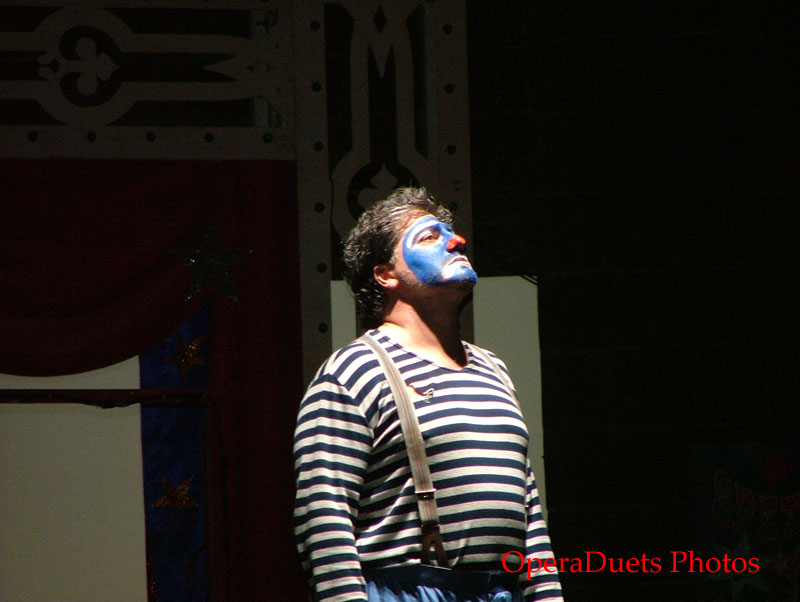 Unlike 2009 when the prologue with Carlo Guelfo was a disappointment I now enjoyed it. In 2009 the Italian soprano Fiorenza Cedolins sang the role of Nedda, now we had the Greek soprano Myrto Paptanasiu as Nedda. Now I could almost root for the unfaithful Nedda. Beppe was another role sung by another singer, instead of big Martin Zysset, a Swiss favorite, we had Boiko Zvetanov, the little, round tenor with a Great Voice and personality that fitted his voice. He fitted right into the show.
Sloppily conducted by Daniele Callegari, the singers with Jose Cura (Canio) and Gabriel Bermudez (Silvio) as the routine tenors, it still was a great Pagliacci. I still don't like the blue in Pagliaccio's face, but that is minor.
Daniele Callegari, conductor
Zurich Opera House Orchestra
Zurich Opera House Choir
Producer/production Grischa Asagaroff
Set and costume design Luigi Perego
Lighting Hans-Rudolf Kunz
Choir rehearsal Jürg Hämmerli
Choreography Tetsu Taoshita
For more reviews from my travels, see www.operaduetstravel.com