This time I had arrived the day before so I could have had enough sleep but my hotel room was towards the noisy street. I was lucky so early on Monday July 2nd I could change room. It was a smaller room but it was towards the quiet street. Anyway I got some sleep in my new hotel room, and after a shower I was off to get my ticket at the opera house and there I saw the program that Carreras was singing on the poster on the door to the opera house.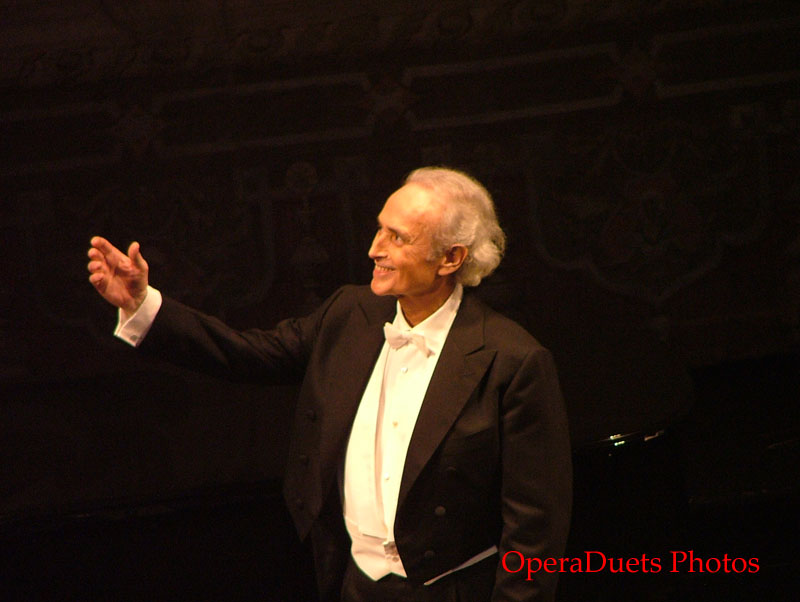 PROGRAM
1. Pieta, Signore (Louis Niedermeyer 1802-1861)
2. Il cardellino (Saverio Mercadante 1795-1870)
3. Dolente immagine (Vincenzo Bellini 1801-1835)
4. Malinconia, ninfa gentile (Vincenzo Bellini 1801-1835)


5. Valse Lugubre (Gioacchino Rossini 1792 - 1868)


6. Malia (Francesco Paolo Tosti 1846-1916)
7. Segreto (Francesco Paolo Tosti 1846-1916)
8. L'ultima canzone (Francesco Paolo Tosti 1846-1916)
9. Chanson des yeux (Ruggero Leoncavallo 1857-1919)
10. Serenade Napolitaine (Ruggero Leoncavallo 1857-1919)




Pause


11. Cancion al arbol del olvido (Alberto Ginastera 1916-1963)
12. La rosa y el sauce (Carlos Guatavino 1912-2000)

13. Milonga del Angel (Astor Piazzolla 1921-1992)


14. Del cabello mas sutil (Fernando J. Obradors 1897-1945)
15. L'oroneta (Enric Morera 1865-1942)
16. Intima (Tata Nacho 1894-1968)
17. Muerte del Angel (Astor Piazzolla 1921-1992)
18. 'E rrose e tu (Furio Rendine 1920-1967)
19. Passione (Nicola Valente 1881-1946 and Ernesto Tagliaferri 1889-1937)
20. Vurria (Furio Rendine 1920-1967)
EXTRA NUMBERS
21. Coren'grato by Salvatore Cardillo
22. Dicitencello vuie by Rodolfo Falvo
23. Anema e core by Salvatore d'Esposito
24. Un umbra by Richard Adinsell
STANDING OVATION FOR CARRERAS IN ZURICH 2012-07-02
Opernhaus Zurich was full of people waiting for Carreras to win them over. And he did win. So in the end it was "never-ending" applause and then Standing Ovation. No Granada or L'emigrant as extra number but still, 4 extra numbers.
Carreras and Lorenzo Bavaj, the pianist, has worked together many times before. Lorenzo Bavaj played 3 piano pieces that showed him as a master pianist. With Carreras he is the loving and knowing accompanist.
During his first song, the prayer Pieta Signore, Carreras had to cough once. If I remember it right his was the only cough during the whole recital. At every 2 or 3 songs Carreras went inside for his glass of water (I believe that is his habit). Refreshed he came out to sing more. At this point of his carreer Carreras is mostly competing against himself and his own CDs. Pieta Signore sadly or happily served as his warming up piece and from there it was only getting better. From the first half I loved especially the songs of Bellini, they are favorites of mine, and Carreras sings them so well. From the second half I loved most the Spanish songs, El Arbol del Olvido, La Rosa y El Sauce and naturally, Del cabello mas sutil. I am not saying that L'oroneta or Intimo was not great, they were marvellous.
The extra numbers was great. Coren'grato was not a surprise as extra numbers and it is a song loved by Carreras and by the audience. Dicitencello vuie is a beautful song and we loved that too. Anema e core was a suprise and a happy one. Then came the song from the Pure Passion CD which I thought must be Tsjaikovsky but it was Richard Adinsell.
BRAVO, CARRERAS!!!
For reviews from my travels, see www.operaduetstravel.com