2010-05-13 Turandot (Puccini), Deutsche Oper Berlin
Turandot = Maria Guleghina
Liu = Manuela Uhl
Calaf = José Cura
Timur = Arutjun Kotchinian
Ping = Nathan De'Shon Myers
Pang = Jörg Schörner
Pong = Yosep Kang
Althoum = Peter Maus
Mandarin = Lucas Harbour
1st voice = Heidi Melton
2nd voice = Jana Kurucová
Laurent Campellone, conductor
Thu, 13.05.2010, 18:00 h
duration: approximately 2 hrs 30 mins | 1 interval
Premiered at the Deutsche Oper Berlin on 13th September 2008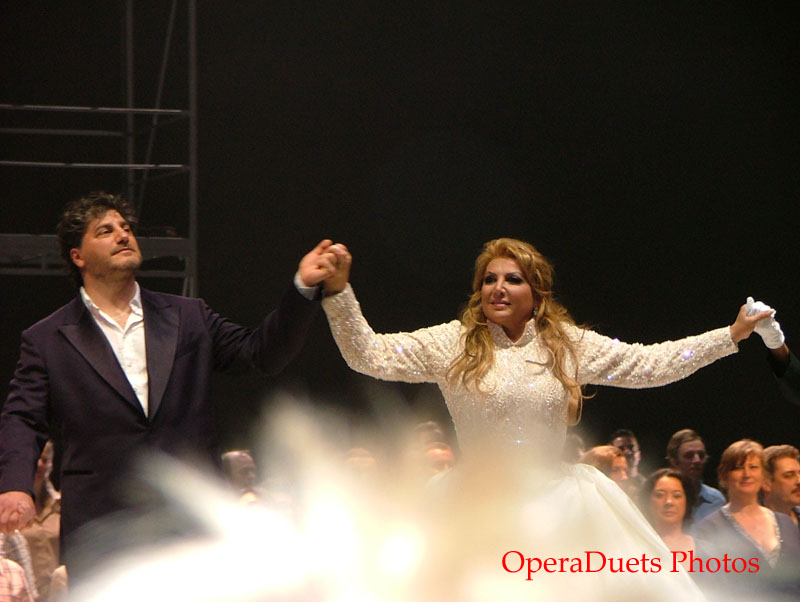 Director
Lorenzo Fioroni
Stage-design
Paul Zoller
Costume-design
Katharina Gault
Choir Conductor
William Spaulding
Chor der Deutschen Oper Berlin
Schöneberger Sängerknaben
Orchester der Deutschen Oper Berlin
World class singing could not hide that this Regie did not work. It didn't make sense. The big arias, In questa reggia and Nessun dorma, was hidden by the going-on's onstage. How well did Maria Guleghina sing her aria? It was difficult to tell to much was covered by having Turandot's servants and naturally what is an updated opera without somebody acting as journalist/photographer. It was a mess that Maria Guleghina could not save. The directors ideas was against her. Jose Cura's Nessun dorma was wonderful. But as wonderful the aria sung, it was a missed moment for the director. Instead of a film of children unable to sleep in a palace and walking scared about it could have been a moment between Calaf and Turandot. The 3rd act starts with Turandot onstage sleeping/waking and here we have Nessun dorma with Calaf but we got a stupid film.
Where 1st act was nonsense, act 2 had its moments (the Riddle scene was OK), but act 3 was the best because the director could not destroy too much here.
The director's idea was, I think: Violence + Love = Good. But it made bad theatre.
Act 1: We are in a theatre. All the people in Beijing (think: old DDR) is waiting for the spectacle. A Riddle scene is played out complete with the beheading of the Prince. Imagine my surprise when in act 2 I understand that it was really Ping playing the Prince, Pong Turandot and Pang the executioner. This is supposed to be a tyranny but these 3 "ministers" is allowed to act out something so negatively to the imperial princess. In the same act the director does much out of a person rejecting singing a hymn to the Emperor. But a parody of Turandot is accepted. Ping, Pong and Pang are always a misogynist lot, but t\in this production it was a step further. I recognized Calaf with his leather jacket and Cura's height made him easy to see. Liu and Timur was almost impossible to see. The director did not really understand that Timur is supposed to be blind and that Liu has to be near him to help him. Timur was instead a drunkard who was occasional blind too. In the theatre there is an emperor's balcony of course. That is where Turandot appears to give thumb down to the Prince of Persia. Then the director makes the usual mistake: there is no way that Calaf could see Turandot to fall in love. It is not only that she has a black veil in her face. He is not looking at her. (Maybe he did, and I missed those seconds). Liu sings sweetly to her Prince, she has made up a table so that they can eat. The idea must be that we the audience should understand that she is dreaming of domestic happiness with her beloved Calaf. We don't need that. We have the aria already. Calaf answered by throwing the table cloth with all that Liu has put the on the table at the same time as he sings the most sweetly sung "Non piangere, Liu". His father Timur, Liu and the 3 pranksters they all try to dissuade him from hitting the gong-gong. But Calaf wants Turandot.
Turandot in Berlin on May 13th, 2010 (part 2)
For more reviews from my travels, see www.operaduetstravel.com