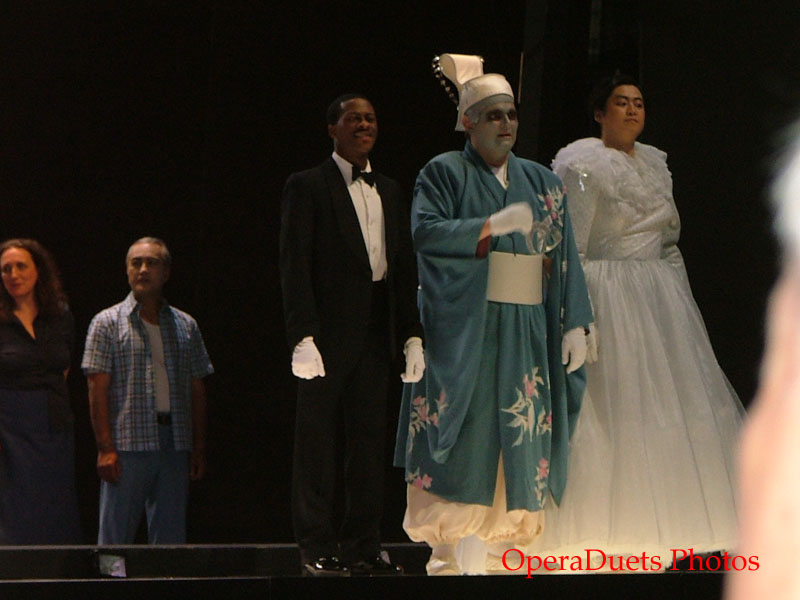 Act 2: Ping, Pong and Pang is feeling sorry for themselves. They are slightly suicidal when their costumes are brought to them. Usual this is the light moment in Turandot. But in this production it was impossible for me to feel any sympathy for the 3 "ministers". The Emperor's balcony is filled up with officers and diplomats worthy as if any European Royal Family could be proud of. The Emperor is there trying to persuade Calaf to give up his quest. When Calaf refuses for the 3rd time then it is time for the Riddle scene. The aria In questa Reggia is drowned by the spectacle. Especially is the journalist/photographer annoying. Turandot's great aria has no unity in it as Maria Guleghina as Turandot has to accept the presence of the press and so cannot give full attention to the moving story of her ancestor. This aria is showing the whole motivation behind Turandot's actions but the director butchered it. But as the Riddle Scene starts finally we are brought to understand and enjoy the interaction between Calaf and Turandot. For the first time this is not played out as a crowd moment but as an intimate encounter. Reading the director's comments in the program I find out that his idea is that this is really a Love Duet. And that Turandot is in reality falling in love with Calaf as they sit down. This exciting idea is not being realized in the scene. Still Maria Guleghina and Jose Cura is really exciting in this duet. Calaf wins by guessing the right answer to the 3 riddles. The Emperor loves his new son-in-law and Turandot is given her wedding gown. She rejects it, of course. Sadly the director has decided to make Turandot, the Princess, into a whiny girl when she rejects the wedding plans. The Emperor and Calaf ignores Turandot. Calaf is the celebrity du jour and the crowd wants him. Finally he sees Turandot and in a way to save her embarrassment/win her over completely he challenges her with a riddle of his own. "Tell me my name, and by dawn I will die".
Act 3 is the act where nothing can go wrong. But the director decide to put a film about a boy and a girl who can't sleep and walk about fearfully in a palace. That is what is happening when Jose Cura sings Nessun dorma. The film is just a distraction from a wonderful rendition of Nessun dorma. Instead of a film the director could have made something out of having Turandot sleeping in her white dress onstage as Calaf sings Nobody shall sleep. Another opportunity lost for the director and the opera. Then Ping, Pong and Pang again tries to persuade Calaf to give in. It is only natural since Turandot has decreed that nobody shall sleep until the name of the stranger is found, death will be the reward for the people if they don't comply. In wanders Timur and now they are going to pry the name out of his mouth (torture). Turandot sleeps with her dagger, threatens Ping and then assumes her usual composure to order torture of the old man. Liu steps in defending Timur: She is the one with the Name. Of course, Calaf doesn't understand and threatens Liu. Another lost opportunity for the director was to give more insight into Turandot's mind when meeting Liu and her sacrificial love. Liu is tortured while singing Tu che in gel sei cinta. Liu kills herself with the executioner's knife. Incredible that she could just take the knife from him and incredible that she could have the strength to kill herself since a finger has been cut from each hand (that is my intepretation of the torture). One of the ministers, Pong?, hangs her dead body up. Timur cries up when he understands that Liu is dead. As Liu hangs suspended in the air, Timur sits down and take up his bottle and drinks. Traditionally Turandot and Calaf is alone when they sing the final duet. It is hard for me to find what to say about this duet because the singing/acting is simply glorious. Calaf tells Turandot her name and she proclaims she knows his name. The Emperor is there. Ping, Pong and Pang are dressed as Calaf, Turandot and priest making a mock wedding. Emperor gives Calaf a rich crown. Turandot hides her dagger, smiles to her father and stabs him. Calaf takes the dagger, goes over to his father and stabs him. Turandot sees Ping, Pong and Pang doing their mockery and Calaf gallantly walks up the stairs and stabs them. It is happy ending for Turandot and Calaf. They really loves each other.
Actually the father murders made sense.
BRAVO, Jose Cura!
BRAVA, Maria Guleghina!
Director, learn your craft...
Turandot in Berlin on May 13th, 2010 (part 1)
For more reviews from my travels, see www.operaduetstravel.com