When my
gall bladder operation
was rescheduled to April 4 from April 28 I thought it meant I would not only be gall bladder free but completely well in Easter. But I still have pain from the operation, even today May 1.
Still, my Easter was OK.
Stiffelio
in Stockholm on April 16 (Palm Saturday),
Cav/Pag
in Barcelona on April 17 (Palm Sunday). Relaxing at home with my parents until my travel for Zurich and La Boheme.
On Good Friday evening (April 22) I traveled to Oslo Gardermoen Airport for a late flight to Zurich. I had a miserable first night in Zurich with the constant noice of traffic and lots of pain, almost no sleep until early morning on April 23rd. I had booked 2 nights on this hotel but I was lucky I only I had to pay for this one night. Then I was off with all my things to the Main Train Station (Hauptbahnhof) and I had breakfast in BurgerKing containing of Chickenburger and Cola Light. Then I went to the Opera House to check on the time of my opera. Later I went for lunch in the McDonalds close by for more chicken and cola light this time as lunch. There I used the HRS.DE app on my IPad to check hotels nearby and I chose Hotel Europe. Then I went to the hotel and was checked in and so I could rest for a few hours until I went out to have dinner before the opera started. Poulet sweet & sour at the Asian restaurant nearby.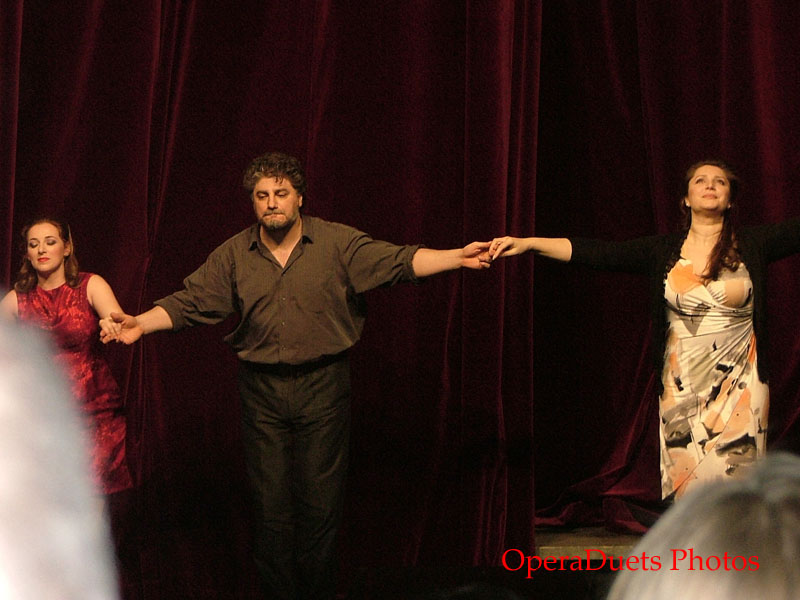 April 23, 2011 at 20hrs
LA BOHEME
in Opernhaus Zurich. It was a wonderful performance with Jose Cura and Barbara Frittoli as Rodolfo and Mimi. All singers were excellent. And tears when Mimi dies, the hallmark of a great La Boheme performance. Loved it. And I meet severals JCx members after the performance. Some of us got together for a drink at the restaurant to Hotel Europe. At midnight it was time to retire to bed. Happy to bed I went.
Easter Sunday, April 24, it is time to leave but also time enough to relax a bit longer at my hotel. But in the end it is time to go to the train station. There I missed the direct train to the airport so I must go via Main Train Station. As breakfast I had my brezel and Cola Zero. I ate it on the way to the airport. Then I relax and wait some more in the airport. I also tried to check in using the check in machines but no luck. So I had to go to the counter. Finally it is time to go further into the airport and then almost to my gate. But I am hungry so I have to go back to see where is the BurgerKing restaurant. I found it and so another Long Chicken with Cola Light is mine. Relaxing... Back to the security line of my gate. Finally I can safely buy a bottle of Cola Light. Then it is my flight to Copenhagen. Not only is it not a direct flight to Oslo, but as I depart from the plane I am reminded that I could have had this very plane further to Oslo at 1700 instead I have to wait 3 more hours for my Oslo flight. Bored in Copenhagen Airport I have a slice of pizza there. But when my second flight lands in Oslo Gardermoen Airport I have finally some luck. My plane arrives early but then the passangers are slow in motion but then some decide that I can get out before them and I race out of the airport and gets the bus that are just about to leave. Success!! Home before midnight...
Easter Monday, April 25. Last day of my holiday. I have decided to fly back home in stead of 7 hrs bus ride. It is over 21hrs when I am back to my appartment.
Tuesday April 26 first day at work and all is normal. Some pain, but nothing really to worry about. Wednesday April 27: first I work, then I get a doctor's appointment for the same day. But my doctor decide to send me to hospital. Right now? Wow, that was unsuspected, but I get a chance to go home and find out what to take with me. But then Patients Travels calls me to tell me that they have a taxi travelling back to the hospital right now. That is right, now I have even less time to find all the things I need. Naturally some things were forgotten like my evening pills. The taxi is here, off we go. Before my mobile phone goes blank I phone my mother about these new events and my mother had tried to call me because my aunt is in hospital. Luckily she recovered. Thursday April 28 a CT scan of the gall bladder etc, boring, pain, boring, head-ache, loud noices and bright light right into my brain. Friday April 29 my heart has a check up but my heart is fine and strong. I was not worried, I tell you. Finally off the hospital the bus leaves at 1500 and I home at 1715.
It would have been wonderful if the hospital stay meant that I am now without pain. But it seems to more a case of a flair up of my Crohn's disease. Nothing to serious. Still, no reason to shout hurrah. Another reason of the pains is my endometriosis and it sure gives real pain just as those I feel just now as I am writing these words. Then it is my operation scar that is pressing my skin, not in a good way. And so this is the conclusion: Life goes on even with pain.
- Posted using BlogPress from my iPad