What a day? Headache, pain in abdomen but mostly pain in my lower back. Luckily I can sit down and my pain is almost gone.
2011-10-14 Gala-Abend mit Startenor Jose Carreras, Konzerthaus Wien
Josep Carreras, tenor
Sylvia Schwartz, soprano
David Gimenez, conductor
Orchester der Volksoper Wien
It was Spanish zarzuela and Italian songs. Carreras started softly with Cancion Hungara from Alma de Dios in the first part and ended the second part with full power in Coren'grato. Sylvia Schwartz is a young soprano with a nice voice. She was most impressive when she sang duets with Carreras, especially in El Duo de la Africana. She got to sing some of the best soprano arias from zarzuela and operette, still I was often left cold. The Guiditta aria in the extras was her best. Carreras sang with his soul and mine responded. David Gimenez was a wonderful conductor. Neither singer nor conductor had their notes in front of them, only the orchestra had notes. That was impressive. The orchestra responded well to David Gimenez.
Naturally Carreras two children was there. His son Alberto has grey hair and looks exactly like his father, daughter Julia still with beautiful black hair and her stunning Carreras looks. They were sitting on front row together with more Carreras family member, I think.
Tomorrow, back home...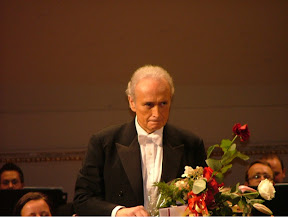 - Posted using BlogPress from my iPad